<! --- include buttons next --- !> <! -------- Home Link -------------->
<! -------- Common Links -------------->
<! -------- Other Family Sites -------------->
<! --- end of buttons include ---!>
Sheffield Family of Collingwood, Ontario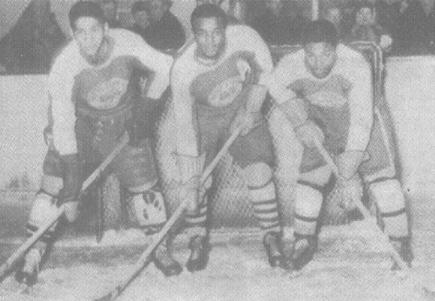 Howard Sheffield -- Arthur Lowe -- Gary Smith - 1951
From the time the Sheffields arrived in Collingwood and the Lowes in Glace Bay, they have been involved in sports. Some of us were rather successful at the sports we chose to play.
In the newspaper photo above, Howard Sheffield, Arthur Lowe and Gary Smith pose during a Senior hockey game in 1951. The three men, who are not related, were recruited and played as a line on a Sr. Team in Mount Forest, Ontario. Since black hockey players were so rare in 1951, this picture made news papers across the country.
The picture above also bares another significance to the history of the Sheffields and Lowes. It was hockey that brought the Sheffields and the Lowes together as family. Franklin Sheffield Sr., Howard's brother, married Jasmine Lowe, Arthur's sister, after meeting in the stands while watching their brothers play hockey.
Arthur Lowe's son Darren, who is currently the head coach of the University of Toronto's hockey team, played 8 games in the NHL with the Pittsburgh Penguins. Darren also played in several other high profile leagues and for the Canadian Olympic team in 1984. Some of Darren's stats from hockeydb.com are listed below. Unfortunately the CIAU stats are incomplete but Darren played several years with the University of Toronto before and after the 1984 Olympics.

                       Darren Lowe's Stats

                                 - Regular Season -    -  Playoffs -
Season   Team                Lge   GP  G  A  Pts PIM  GP  G   A Pts PIM
------------------------------------------------------------------------
198?-83  U. of Toronto       CIAU    ?  ?  ?   ?   ?
1983-84  Canadian National   Intl   67 18 15  33  22
1983-84  Pittsburgh Penguins NHL     8  1  2   3   0  --  --  --  --  
1986-87  Jokerit Helsinki    FNL    18  7  2   9  16
1987-88  Flint Spirits       IHL    82 53 64 117  24  16  10  15  25  34
1988-89  Maine Mariners      AHL    78 29 24  53  36  --  --  --  --  --
1989-90  Flint Spirits       IHL    67 31 35  66  44   4   1   4   5   2
1990-91  San-Diego Gulls     IHL    79 21 37  58  60  --  --  --  --  --
------------------------------------------------------------------------
         NHL Totals                  8  1  2   3   0

The Sheffields and Lowes have excelled in many sports over the years. These sports included hockey, baseball, track and field, basketball, bowling, soccer, football, fishing, hunting and gymnastics.
Sports Features
Since there is so much information regarding Sheffields and Lowes in sports, this page will be updated with a features periodically showing sporting events in which Sheffields, Lowes and/or our extended families took part.
---
| | |
| --- | --- |
| Herb Wilson Jr., son of Yvonnne Wilson (Sheffield), is a great outdoorsman who loves to hunt and fish. Both of these bucks were tagged by Herb while bow hunting near his home in Wasaga Beach, Ontario in 2008. Just click the image to blow it up. | |
---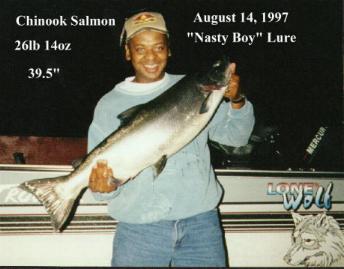 Although playing ice hockey and golfing are my current sports passions, I caught the salmon pictured here during the Lake Ontario Salmon Derby in 1997. I don't profess to be even close to the fishermen my Uncle Eddie Sheffield was or my cousins Herb Wilson Jr. & Doug Davis still are, but I'm pretty proud of this baby.

---
Like Father, Like Sons
Four year old twins Daniel & Richard Sheffield show off their first fish. These two Rainbow Trout were caught at the Primrose Trout Farm near Shelbourne, Ontario on July 19, 2003.

You've never heard two kids squeal so much!!
---
Move Over Pele
Leonard Sheffield is a star in the Collingwood Soccer League. In May, 1999 he scored 8 goals in three games and you can check out his stats in the Collingwood Soccer Club web site. You won't believe the number of goals this guy scores!
---
The Fishing Davis'
Pictured above is Doug Davis, son of Ruby Lowe (Davis) & Norm Davis, with a large pike and a large catfish. On the left is Doug's son Ben. The fish were caught in Parry Sound, Ontario in 1998. Ben, incidentally, was a professional hockey player in Germany who played his amateur hockey for York University in the OUAA.
---
A Star Among Us

Pictured here is Neisha Davis, daughter of Steve and Diane Davis. Neisha is a nationally carded gymnast who represented Canada in Power Tumbling at different venues both in and out of Canada. In the fall of 1998 Neisha competed in Australia against athletes from all over the world and placed 11th out of over 50 athletes in her event. She represented Canada again in 1999 at a meet in South Africa as she qualified for the senior gymnastics team in her event. Congratulations are in order!

October, 27 1999 - News From Dianne Davis


Neisha has come back from South Africa, she did extremely well. She
placed 25th in the senior category - she was 14th until those pesky
Russians came in the last flight. Considering all of the kids are her
senior by about 4 - 10 yrs, she did very well. The girl that won was a
blond Russian age 31,  & it was her 3rd gold. The best part of the
competition was that she was 1st on the Canadian team & she is now 1st
in Canada. Pretty neat eh. We are very proud of her.


Good Show!
---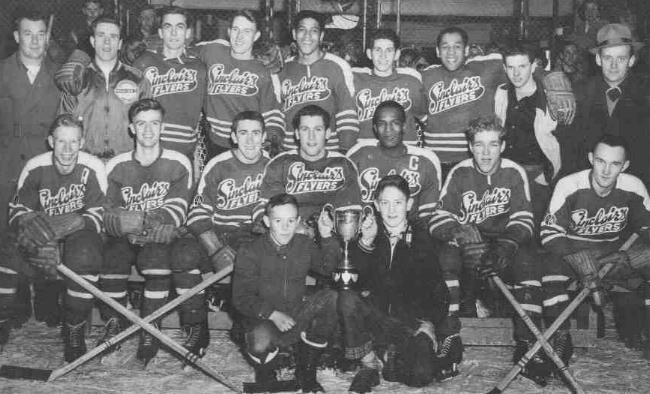 Sinclair's Flyers
In this hockey team photo are, Herb Morrison (team captain, front row), Eddie Sheffield (back row, third from right) and Leroy Cromwell (centre back row). It was taken in the early 1950's and is of the town league championship team, "Sinclair's Flyers", which was sponsored by Sinclair's Garage (owned and operated by Fred Sinclair and his son Wilbert) on the corner of Oak and Sixth Streets in Collingwood. A young Wilbert Sinclair is in the hat on the far right.


---
Ray Sheffield is a National Champion - In Australia!!!
Sunday, September 7, 2003


Team Captain "Super Ray"
Accepts the Cup
We win!! This weekend the Newcastle North Stars played our Semi Final and Grand Final games in Sydney. The first Semi Final Saturday afternoon was between West Sydney Ice Dogs and the Adelaide Avalanche with the Ice dogs winning that game 4-1. We played the second Semi against the Sydney Bears and came out on top 7-4. This set up the final game between us and the Ice Dogs on Sunday. We hadn't lost to these guys all year but they are a bigger team than us and we figured they would try to beat the crap out of us and they did. I scored the opening goal about 10 mins into the game and we had a 1-0 lead after the first. We started the second on fire with 2 quick goals before they came back with one to give us a 3-1 lead at the end of the second. We were the only team to score in the third to give us a 4-1 win and we are now the the Australian National Champions. Never thought I would be the champion of a country. Cool eh? Finished with 1 goal and 2 assists in the final.
read more about the game on our Current Events Page ...